Temperature controlled soldering iron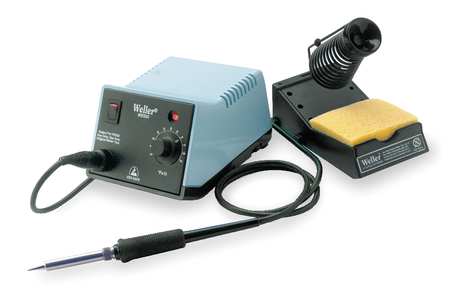 Tired and aggravated with soldering Amphenol and honda plugs? There is no substitute for a good soldering iron. Pay the piper and save yourself some frustration when making your next servo or encoder cables.
What is the difference between soldering irons?
The speed at which the soldering iron heats up makes a huge difference. If a soldering iron heats up quickly and can direct the heat into the main tip, this will make a good quality solder connection. When soldering the heat gets wicked away by the rest of the plug. A good soldering iron will be able to recover from the rapid heat loss very quickly therefore applying more heat to the point of contact and making wires and connectors easier to solder. This also prevents your plug from heating up and your wire insulation from melting as well as making it easier to hold on to while soldering..
The variable temperature control also allows you from applying to much heat. This can make some connections brittle as well as prevent you from melting the insulation on smaller diameter wires. This can sometimes cause the need to start completely over since the wires need to all be close to the same length in the cable.
Some irons will remain hot for 15 minutes. A lot of the good ones have a hollow tip which cools off very quickly and allows you to pack up and go if you are a service engineer right away when you complete a job.