ATA Card / SRAM card compatibility with Fanuc and Mitsubishi controls
PC cards are generally used on machine tools for easy program transfer and data backup. Using this option you can avoid pulling out the laptop to setup the RS232 protocol.
ATA Card and SRAM card compatibility and recommendations
Compatibility, unfortunately is not documented very well. It seems that none really knows if anything will work for sure. Fanuc has a small sheet of what they have used. There are many brands and adapters you can use and adapt to pcmcia cards. I only recommend one form factor that should work for every control you have, and that is SRAM cards. The size of the files that are transferred or backed up are very small, especially for older machines.
SRAM card spec compatibility
Must be ordered with attribute memory typically 2k or 8k
2mb-4mb capacity card- preferable 2mb
Expensive and low capacity compared with ATA
Need special reader for PC's and laptops without PCMCIA card. Check out this USB to SRAM Omni Drive SRAM Card Reader
ATA card compatibility or Adapter with Compact Flash Card

Many Fanuc reps and machine tool distributors have said that about 80% are compatible. Also, stick with a very small card, if possible preferably 64mb and no more than 1GB. I have used various other brands and have had some difficult problems. Below there is a common setup for ATA compact flash card shown. Desktops usually do not have a PCMCIA card slot, so that is why compact flash is used because adapters are readily available.
The newest Fanuc I series controls will generally accept up to a 2-gigabyte card, ATA. Older controls like 16,18 and 21 all depend on whether it is model A or model B control etc may need sram..
Compact ATA flash card - Example setup
The PCMCIA card adapter will have the compact flash card inserted into it to download the data out of the machine. Once the data is on the compact flash card, pull it out and put in the compact flash card reader. This Device plugs into the USB port and will come up on your computer as another drive. The data can be accessed like anything else on your computer hard drives. Any Brand, PCMCIA compact flash adapter, or Compact flash reader may be used for this.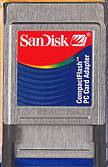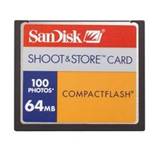 Link to buy CNC Fanuc compact flash card
Compact flash data storage card (Sandisk brand only most compatible)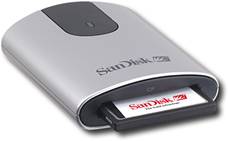 Compact flash reader for USB port (Any brand)
For additional information see below
Setting up and using ATA, PC cards and SRAM cards devices
SRAM card driver installation and setup
USB to serial port adapter converter compatibility and setup