Fanuc PMC ladder modification changes or fanucs online ladder edit function

Not all Fanuc ladders can be edited on the machine. whether the ladder can be edited through the control depends on two things. The age on the control and whether it has the option to do so. Sometimes a parameter has to be changed or there is a screen to enable this ladder editing function. Some Fanuc controls require you to burn a new E-prom chip which is not an option for most people. For the machines that you can edit an easier way is to purchase the FANUC LadderIII software for reading and editing the ladder on the PC. Most automation projects you really will not usually need to edit the ladder. You should be able to get by with finding the signals you need to tap into within the wiring.

Important note: if there are ladder updates and the builder installs them after the project is complete you will erase all the ladder logic you installed.

Avoid this at all costs on new machines or new series of machines.

Some signals that are not always easily available are.

Pallet A/ B in setup station

Door interlock/safety circuits

Servo positions or conditions, 1st, 2nd , 3rd reference positions etc.

Alarms and descriptions
First many machines have there own front end control laid over the Fanuc side now so procedures may be different. First start out by going into the screen below. You may not see the options to the right like displayed below. Next push the ESTOP button. See if the options to the right come up. Then press stop to stop the ladder so you can begin editing. If you do not do this step it may ask you to perform it during the process of changing.
The directions listed below are not perfect and some directions have been left out. This is intensional to help avoid people with no knowledge of this equipment from performing these actions. Again I do not recommend making changes to a machine tool ladder unless you really have to in order to make things safe for both the operator and avoid machine damage. Fanuc ladder modifications can be difficult and ladder logic can be extensive if you do not know what you are doing to keep things safe.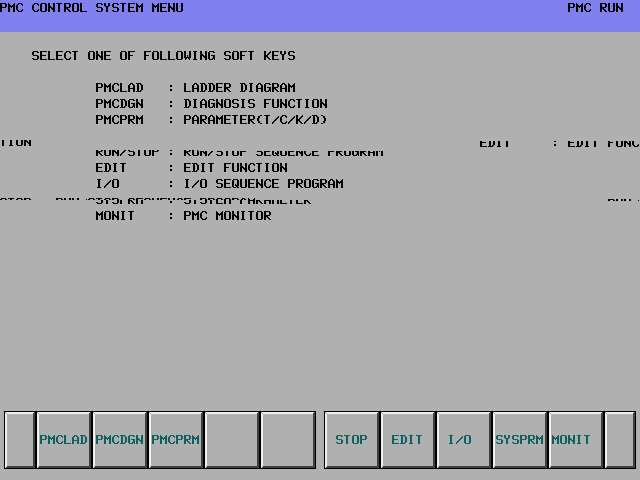 Press PMCLAD Softkey to enter ladder. Sometimes password protected.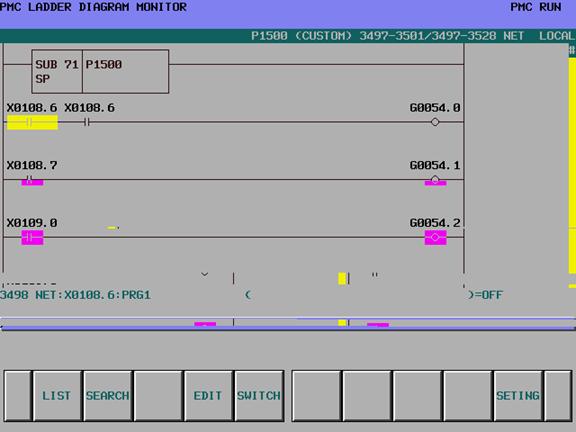 Press list to move to the section you would like to change.
Then press the EDIT button.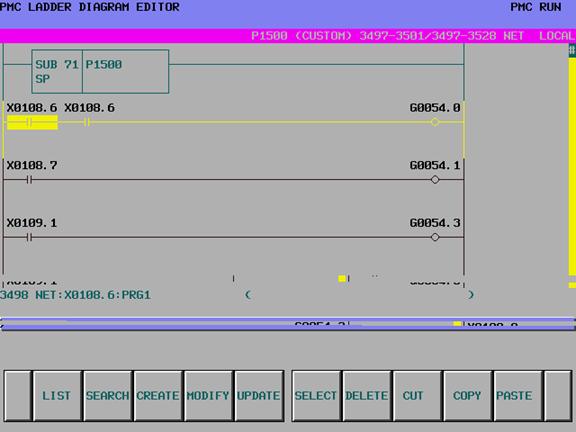 Move curser to what run you would like to change. Then press modify.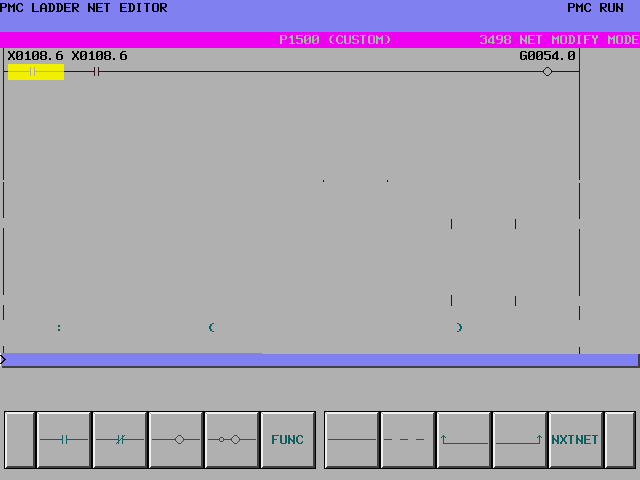 Once modify is pressed this screen with the single run will appear. Press or select what you would like to change or modify. Begin typing in the address of the contacts you have highlighted or select a space that has nothing and press one of the soft keys to add a device.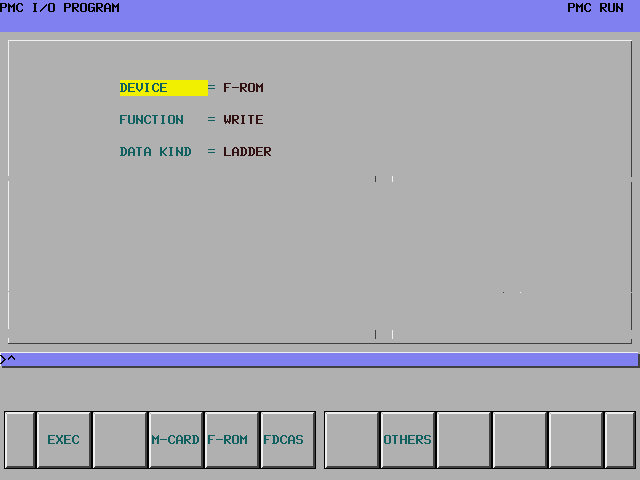 Remember here if you made a mistake do not write the fanuc ladder to F-ROM just power down the machine and start over.
Once you have completed all your changes. You must burn the ladder to the FROM. Otherwise when you power down the machine and power it back up the ladder changed you made will be lost. This screen can be found by hitting the I/O softkey in the PMC system control menu in (fig. 1)